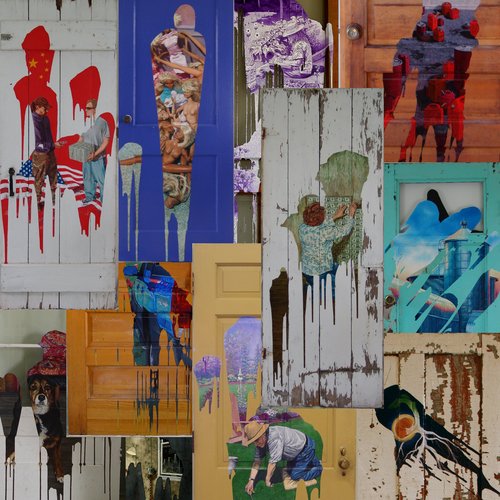 The works below are presented as they have been submitted by the artists. We do not censor the submissions, but ask participants to be mindful that content will be viewed by people of all ages. Inappropriate material will be removed.
Title: The Domiciles Project: A Portal to Infinite Possibilities
Date: May 19, 2016
By: Michael Rabideau
City: Ogdensburg
State: New York
Age: 53
I have had the privilege to participate in the Domiciles Project on two separate occasions. I was part of the project at Ogdensburg Free Academy back in 2013, and then I was honored to be invited back in 2016. The opportunity to work with Alan Tuttle and share in the wealth of his talent and experience is beyond parallel. My students then and now relished the opportunity to see what the doors had to offer them; they responded in kind with a barrage of questions and comments that Alan was more than willing to acknowledge and offer feedback to when it was appropriate. The students have found out that this project is a portal, a gateway to explore the realms of infinite possibilities. There are no definitive answers when you leave the gallery; that is left up to the individual's imagination and creative fervor. What they can produce after viewing the doors is where the magic truly begins. The montage of poetry, descriptive imagery, dramatic monologue, and artistic presentation all relate back to the students' exposure to the Domicile Project. I thank Alan for this once-in-a-lifetime bandwagon, and I encourage anyone who has a chance to be a part of this creative journey to climb aboard and enjoy the ride.