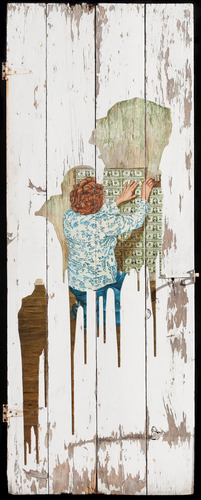 The works below are presented as they have been submitted by the artists. We do not censor the submissions, but ask participants to be mindful that content will be viewed by people of all ages. Inappropriate material will be removed.
Title: Out sourcing
Date: May 20, 2016
By: danielle dean
City: ogdensburg
State: new york
Age: 16
Grade: 10
The front door is showing a women pasting money on a door. Showing that the money was not worth much. It is in the Unites States around the great depression. When their was to much money printed so it was worthless. The prices of everything decrees and the economy crashed. So many women used the money to decorate the houses and have not empty walls. It is an older house.
The back door is showing the united States and Chinese flag. It also has an exchange of currency. One hundred Chinese dollar bill for several American dollars.