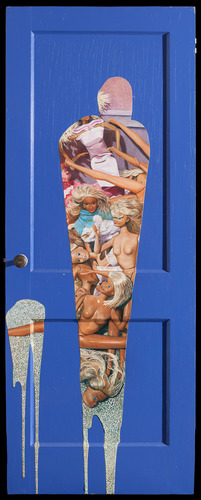 The works below are presented as they have been submitted by the artists. We do not censor the submissions, but ask participants to be mindful that content will be viewed by people of all ages. Inappropriate material will be removed.
Title: I walk down the street... (Video)
Date: February 22, 2013
By: Rebecca Gerhard
City: Ellendale
State: DE
Grade: 9
School: Cape Henlopen High School
Lesson Plan # 2 Focusing on Interpretation Original Monologues
Cape Henlopen High School Lewes, DE
I walk down the street, looking at the people who pass me by. Perfect faces, perfect hair, perfect bodies…people who look exactly like what the world expects. I'm not perfect. My hair is out of place. I wear no make- up. I have curves in all the wrong places. Once I had a goal to look perfect. I tried so hard. I was sick. I hurt. But all I wanted was what everyone perceived as beautiful. I felt like suffering was the way to achieve my goal. The aching in my stomach, the lack of food, the dizzy spells, they were all just a part of attaining my prize. I thought about this lifestyle that I chose as my only option to be happy. After so much time, I thought about whether or not is was truly worth it. I had given up so much, just to be like others. But what had I done? I did all of this because I was different. The more I thought about this, the more I realized how ignorant I had been…neglecting myself…pushing myself over the edge…for nothing but a sick conformity. I realized that beauty is not what is perceived by the eyes, but what is perceived in the heart and soul. I now walk down the street, smiling to myself, because I am finally happy in my own skin.