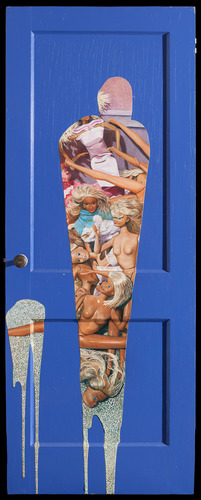 The works below are presented as they have been submitted by the artists. We do not censor the submissions, but ask participants to be mindful that content will be viewed by people of all ages. Inappropriate material will be removed.
Title: From the moment...
Date: February 22, 2013
By: Juli Kyritsis
City: Lewes
State: DE
Grade: 11
School: Cape Henlopen High School
Instructor: Kris Forehand
Lesson Plan #: Creative Response
From the moment I entered the courtyard I was mesmerized by one door. It stuck in my mind as I made my way around to all the other doors. I think it's because of the odd canvas or dripping effect. A screen door…not your average canvas. Door number ten was by far my favorite door. The one side is painted in a monochromatic color scheme of purple. It depicts a little girl drawing a garden. It's life like and beautiful but in her garden are random flowers. They almost look animated like a child drew them. I feel as though she lives in a structured world, full of rules. All work and no play. That could be why it is only one color, one color is dull. Dull could be the perfect word to describe her life. On the flip side of door number ten a scene full of color and life is painted. It's exploding with vibrant reds, greens, and blues. The animated child like flowers that were scarce on the purple side is in abundance on this side. They cover everything from the floor to the walls and are so bright and lively. This image is how I feel a child would view the world. A child would see the world as bright, lively, and full of potential and adventures.